A small act of goodwill and love from our side can have an immediate impact on the life of these children. The schools built thanks to the Foundation's support represent for them the chance for a better future. Francesca's children still need our help.
Thank you!
Make a donation now
You can send funds via bank transfer to the following account:
Francesca Pecorari Onlus
Cassa Rurale ed Artigiana del Friuli Venezia Giulia
dall'Italia: Codice IBAN: IT56 D 08622 12400 000000867354
dall'Estero: IT56 D 08622 12400 000000867354
ITALY SWIFT CODE: CCRTIT2T96A
Causale: voluntary donation
By choosing to sustain these projects and communicating your email address, you will be kept up to date on our activities and the development status of our schools.
Fatto in Paradiso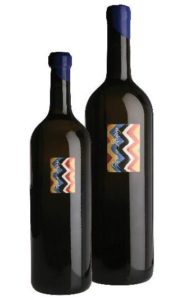 Fip is a wine created by Lis Neris in order to sustain the activities of the Foundation and to bring a smile to Francesca's children. An powerful name, a transgressive label conceived by a young teenage girl then became the looks of a wine produced by her family. Fatto in Paradiso is the memory of a donation: an unmissable opportunity for those who want to make a very special present.
One magnum (lt 1.5) fatto in paradiso in a case with its descriptive scroll euro 50